The brand for Fire and Light, Grilling and Outdoor Cooking, Bushcraft und Survival.
Petromax is a leading manufacturer of equipment, outdoor cooking and living. The coordinated product world of the premium brand Petromax combines German tradition and technical innovation in a unique way. All Petromax products are of highest quality, extremely durable and feature elaborate details. Experiencing raw nature with traditional and yet well-designed equipment is the focus of the Petromax' product world. The products of the German traditional brand Petromax can be acquired through a well-developed international network of specialized retailers with currently more than 3,000 shops as well as an online shop.
Petromax: A German brand with tradition and history
Petromax' history dates to the year 1866, when Albert Graetz founded the lamp factory Ehrich & Graetz OHG in Berlin (Germany). His sons Max and Adolf assumed the leadership of the family-run company in 1897, and, from then on, when the legendary high-pressure lamp was developed in 1910, the company achieved worldwide success. Still today, Petromax is known for its pioneering technical spirit and represents an important part of Germany's industrial history, even 150 years after the originally company foundation. From the very beginning, fire and light, German engineering skill as well as highest quality standards have always been the core elements at Petromax. The family-run successor company Petromax, which originally was a family company founded by Graetz, is being managed by Jonas Taureck and Dr. Pia Christin Taureck. The Petromax group continues the long brand tradition and represents German engineering skill. Technical pioneering spirit, continuous development, functionality, German quality standards, but also a close customer service: This is what Petromax is all about.
Well-equipped outdoors
The products of the premium brand Petromax are designed for all those who seek compensation to their daily routine in nature, who feel at home even in the wilderness, and thus, set up their camp outdoors. These adventurers require high-quality and reliable equipment, which are well thought out and durable – That is exactly what Petromax products are made for. Our customers enjoy traditional pieces, whose simple and clear function has always been up-to-date. Using the traditionally appealing and yet well designed Petromax equipment makes staying in nature a harmonious experience.
The Petromax product world: Tradition meets innovation
At Petromax, we continuously develop our product range, and, the inhouse think tank always comes up with new products to optimize the open-air camp. Their focus is set on outdoor cooking and BBQ, fire and light as well as bushcraft and survival. High-quality cast-iron Dutch Ovens and pans as well as baking pans in various designs, grills and cooking places and many useful accessories are bestsellers. Consistently developing elaborate details, smart improvements and new products – Petromax never does thinks by halves.
Everything that is developed by Petromax is made with the premise: It is good only if it is resistible, robust and durable.
Petromax' product range is rooted in the legendary high-pressure lamp, Max Graetz invented more than 100 years ago and named it Petromax, based on his own nickname (Petroleum Maxe). In the beginning of 2007, Jonas Taureck acquired the trademark rights of the steeped in history brand and resumed the production of the once innovative high-pressure lamp. The success of the Petromax lamp opened his eyes for the charm of outdoor equipment and, thus, an entire product world which Petromax now systematically enters. Within the last two years alone, Petromax has launched more than 30 new products.
From Germany into the World
The Petromax group has its headquarters in Magdeburg (state Saxony-Anhalt, Germany), where they develop, promote, commission and ship their products and run a manufactory.
For distribution, Petromax relies on qualified and consultant specialized retailers, which they have established an international network of. Petromax products are available at specialized retailers in more than 50 countries and can also be ordered directly in the online shop. Petromax is run as a family business by Jonas Taureck and Dr. Pia Christin Taureck.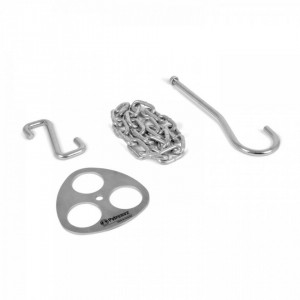 20%